The Essentials of Soft Washing Your Home
Soft wash cleaning in our Florida climate makes a lot of sense, much more so than power washing. Soft washing doesn't just gently remove deep-down stains; it sanitizes and improves the health of your home and property.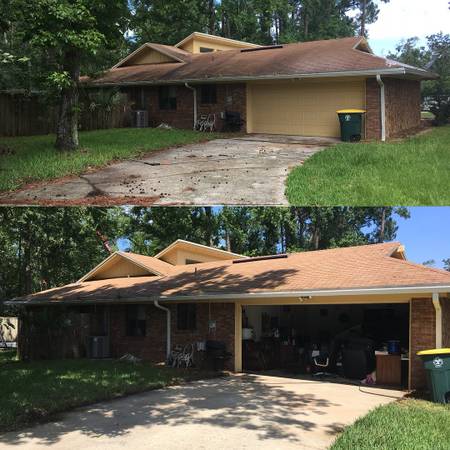 The outside air, dirt, and grime contain contaminants like mold spores, mildew, viruses, bacteria, and algae. These unhealthy microorganisms get transferred into your home through the air and can get tracked in on clothes and shoes. Soft washing your house, fences, decks, siding, driveways, patios, walls, and other surfaces will prevent these contaminants.
Gloeocapsa Magma (Cyanobacteria) Algae can grow out of control just about anywhere if the environment is right and there is food.
Mold and other fungi spores are always present in the environment.
Our Florida, FL climate provides the perfect conditions to harbor their growth.
Your asphalt shingles, stucco, brick, and wooden fences are food.
It's for these reasons that algae and mold are such a problem here.
Soft Washing Removes & Prevents Algae, Mold & More
While power washing can remove algae and mold, it can't treat the surface deep down without causing some damage. Plus, it does nothing to prevent the algae from growing back fast. Soft washing is the right method to use to actually get rid of the problem and keep it away.
The soft washing cleansing formula we use contains a biocide which treats your house for many months to prevent new algae and mold growth. Customers who hire our pressure washing experts for regular soft washing enjoy a healthy home exterior every day with no worries about the problem getting out of control.
Removes & Prevents Unhealthy Contaminants
Won't Damage The Surface
Won't Void Your Shingle, Roof, or Siding Warranty
Soft Washing Doesn't Cause Damage
Whether it's the siding on your house, the driveway, the roof, or fences, these are an investment in your home that you want to protect. Power washing is not the right method to use because it can cause damage.
Once a fence, shingle, or concrete driveway gets damage, the problem gets exponentially bigger like a snowball rolling downhill. Our pressure washing pros tailor house washing and roof cleaning by using soft washing techniques on all exterior surfaces precisely for this reason. We know it won't cause damage.
Won't Void Siding or Shingle Warranties
Soft washing protects any warranties you have for your roof, siding, deck, and fences around your home. If you have a shingle or siding warranty, take a look at the recommended cleaning methods before letting someone power wash. If damage occurs from roof cleaning or house washing, the manufacturer may say that the warranty is voided.