Soft Wash Specialists For Your Florida Home
Our Lakeland pressure washing technicians use specially formulated soft wash detergent solutions that clean thoroughly without the physical damage that it can cause if the job isn't handled correctly.
Our team of licensed and insured professionals uses the most advanced soft wash cleaning equipment available to apply eco-friendly and biodegradable cleansers to your home's exterior surfaces using controlled low pressure.
The soft wash formula prevents new algae and mold growth for some time, leaving the surfaces cleaner for longer. Then we use a steady stream of clean, fresh water to wash away the grime.
Our soft washing service helps prevent long-term damage that can occur to your home's exterior structure when it isn't cleaned and well maintained.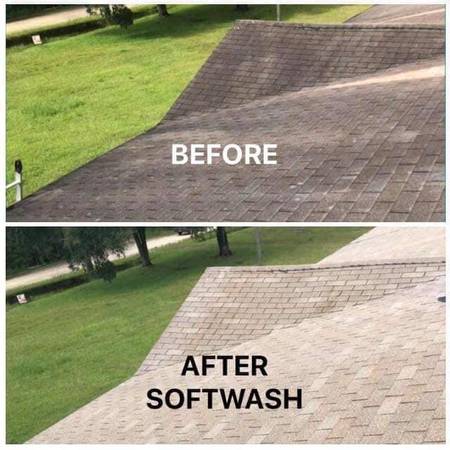 Why Soft Washing Is Important
We all love and enjoy living in the Lakeland area, but it can mean dedicating our free time to more weekend chores. If we don't, years of bacteria, fungus, algae, lichens, and moss can grow on our houses, roofs, and concrete surfaces.
It can get to the point of jeopardizing the respiratory health of everyone if we don't keep it at bay. Soft washing kills and continues to fight these unhealthy contaminants. We recommend having it done every year. Be sure to ask our Lakeland technicians about this service if you're interested in roof cleaning, house washing, pool area cleaning, or other services.
It's not uncommon for our customers who have suffered for years with allergies to report that they've improved afterward.
Why Choose Us For Soft Washing
We know that Lakeland area homeowners are busy people who don't have the time, energy, or expertise to complete a professional soft washing of their home's exterior.
Our technicians are highly skilled and have the training to provide you with professional service you can trust. Locals trust us because we do a great job, and we treat our customers right. We take special care to clean your property using modern methods that don't cause damage to your roof, fences, deck, or patio.
Wrightlook Pressure Washing Company LLC serves as your number one resource for soft washing services.
The excellent quality of our service can help to eliminate pests and pathogens.
It will improve your home's appearance.
The cleaning maintenance can increase your property's lifespan and sustain its market value.
Call our family-owned and operated business today for a no-obligation quote on our excellent soft washing service. You're going to love how fresh, clean, and sanitized we leave the exterior areas of your home!