Your Local Wesley Chapel, FL Pressure Washing Experts
Wrightlook Pressure Washing Company only uses expert pressure cleaning methods that are safe for all kinds of services that require a gentle approach. From cleaning shingles and cedar siding to wood decks, vinyl siding, and masonry, our trained and skilled technicians have your pressure washing needs in Wesley Chapel covered.
Our roof cleaning service removes stains, grime, algae, mold, mildew, lichen, moss, viruses, germs, germs, moss, and bacteria. No matter what you need, our expert Wesley Chapel pressure washing pros provide the correct solution!
If you are looking for affordable service in Wesley Chapel, we can assist with pressure cleaning, house washing, roof cleaning, building washing, commercial cleaning, or other services, so contact us today for a free estimate. Our first and most important goal is to make sure our work completely satisfies you.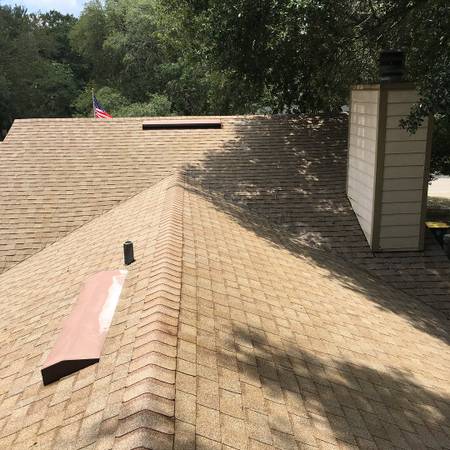 Pressure Washing Offers You Many Benefits
There are many benefits to getting your home's exterior clean and sanitized. Here are the top reasons to take advantage of our professional Pressure Washing services for your Wesley Chapel home.
Sanitizes and Cleans Your Outdoor Areas – Mold and mildew may significantly affect asthma or other health issues of your home occupants. Eliminating these and other harmful contaminants from around the home may reduce the threat to a person's health.
Preserves Your Property's Resale Value – Pressure washing is very affordable, and it can help increase or maintain the value of your property. In fact, many Realtors say that your property's resale value can increase if you pressure wash it every season.
Roof Cleaning You Can Depend On
It's estimated that about half of the roof replacements in Wesley Chapel and other areas needlessly get done due to the dirty and grimy look of the shingles. Don't make the costly mistake of replacing your shingles if all they need is to get a professional roof cleaning.
You may get surprised by how great your home looks after our work gets completed, especially if your roof is less than 25 years old but already looks older. Leave it to the experienced and professional technicians of Wrightlook Pressure Washing. Call us, it probably just needs a professional roof cleaning!
Protect Your Wesley Chapel Home With Exterior Residential Surface Cleaning
Your home is your most valuable asset and most important investment. Of course, you want to take care of it with pressure washing or whichever cleaning method is deemed most appropriate for the surface being cleaned. We remove all kinds of gunk from your exteriors, including:
Algae
Moss
Lichen
Mold
Pollen
…And more!
Let our house washing services should be a regular part of your home maintenance routine. Call us today for a professional Wesley Chapel house washing service.
Top-Notch Wesley Chapel Walkway Washing
If you're looking to enhance the overall look and feel of your Wesley Chapel property, adding sidewalk cleaning to your exterior maintenance routine is one of the best ways to achieve an attractive appearance. Regular walkway washing is incredibly important in order to maintain curb appeal, boost safety ratings, and ensure that your property is easily navigable for all who visit. If you're in the market for a top-quality pressure washing company to perform sidewalk cleaning for your Wesley Chapel home or business, give us a call or fill out our online service request form today!
Keep Your Wesley Chapel Deck Looking Great All Year with Wrightlook Pressure Washing Company's Professional Deck Cleaning Services
Having a clean deck is essential for enjoying Wesley Chapel summers. Wrightlook Pressure Washing Company knows that your deck is a major investment, and with our professional deck cleaning services, we can help you keep it looking its best for years to come. Pressure washing is the most efficient and effective way to restore the beauty and longevity of your deck. Our team of experienced technicians use the latest equipment and techniques to safely and quickly remove dirt, grime, and other build-up from your deck. With regular maintenance, you can protect your deck from damage and keep it looking as good as new. Contact Wrightlook Pressure Washing Company today for your deck cleaning needs!
Soft Washing in Wesley Chapel – Safe, Reliable Results
At Wrightlook Pressure Washing Company, we believe that soft washing is the key to maintaining the integrity and beauty of your property. Our experienced professionals use only the highest-quality soft washing solutions to ensure that your property looks its best. We understand the importance of soft washing and will customize our services to fit your specific needs. We use a combination of soft washing solutions and techniques to ensure the highest level of cleanliness and the best results.
When it comes to soft washing, Wrightlook Pressure Washing Company is the clear choice for Wesley Chapel. Our team of experienced professionals will take the time to understand your needs and customize a soft washing job that will give you the perfect results. Contact us today at 813-507-1606 to get started on your custom soft washing job!
The Professional Touch for Your Wesley Chapel Home's Fence Washing Needs
If you're looking for a reliable fence washing service in Wesley Chapel, look no further than Wrightlook Pressure Washing Company. Contact us today to get started!
High-quality fence washing services in Wesley Chapel
Professional and experienced team of pressure washing experts
Eco-friendly and biodegradable cleaning solutions
Affordable prices and exceptional customer service
Don't wait – contact Wrightlook Pressure Washing Company today to get started! Our team is ready to help you with all of your fence washing needs.
The Benefits of Hiring a Driveway Washing Company in Wesley Chapel
Are you looking for a reliable driveway washing service in Wesley Chapel? Look no further than Wrightlook Pressure Washing Company. We specialize in providing top-notch driveway washing services to homeowners and businesses alike. Our talented team is dedicated to providing you with the highest quality services and results that you can trust.
If you are looking for high-quality driveway washing services in Wesley Chapel, look no further than Wrightlook Pressure Washing Company. Our experienced team of pressure washing professionals can help you keep your driveway looking like new. We use the latest technology and top-of-the-line equipment to make sure that the job is done right and that the end result is one that you can be proud of.