Davenport's Go-To For Prime Pressure Washing Services
When it comes to pressure washing in Davenport – Wrightlook Pressure Washing Company is the best in the area. From complete exterior cleaning to both soft washing and pressure washing, our company has provided only the most efficient cleaning methods to make your property shine. Our Davenport pressure washing experts are here to provide the best exterior care.
Building Washing
Gutter Cleaning
Window Cleaning
Driveway Cleaning
Fence Cleaning
Storefront Cleaning
Roof Cleaning
House Washing
and more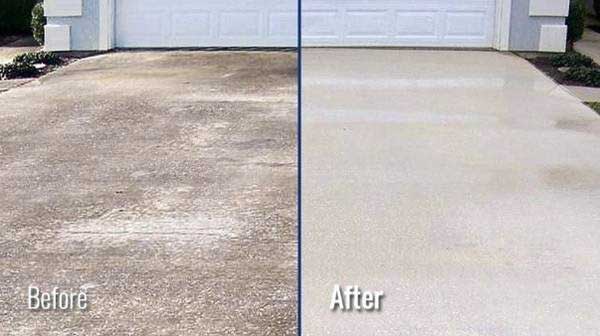 Residential Pressure Washing In Davenport
If you are a homeowner and need cleaning services for your residential property, Wrightlook Pressure Washing Company is the right place to be. We have pressure washing experts who will clean your house, roof, driveway, porch, fences, decks, and every part of your residential property with efficiency.
At Wrightlook Pressure Washing Company, we understand the need to have a clean residential place, and that's why we provide the best service to all of our customers throughout Davenport.
Fence Washing
Our fence cleaning washers at Wrightlook Pressure Washing Company can remove years of discoloration and grime in an instant from your exterior wood. Often, even the greyest, driest-looking old wood can have new life from a professional fence washing. Once your fence looks new and is dry, our exterior specialists can stain the wood for an attractive finish or apply a clear coat for protection against the elements. This way your deck looks like new and will stay looking great for years to come.
No matter what type of fence you have, a professional fence washing by Wrightlook Pressure Washing Company will help to make it look brand new again. This is important since so many factors can take a toll and make it look aged:
Dirt
Mud
Pollen
Tree Sap
Bird Droppings
Algae and Moss
Mildew
Are you looking to sell your home, but want to increase your property value first? Buyers like curb appeal, and first impressions are everything. A thorough fence cleaning can make your Auburndale home stand out and show potential buyers that the home has been well-maintained.
Roof Cleaning In Davenport
Have you ever noticed black stains on the roof of your Davenport home? If black stains and streaks have made an appearance on your roof, you aren't the only one. A bacteria called Gloeocapsa Magma feeds on the limestone in shingles, so those black stains are really visual proof that your roof is being eaten away before your eyes. At Wrightlook Pressure Washing Company, we specialize in using our soft washing techniques to clean your roof. The benefits of roof cleaning by our company include:
Increasing the lifespan of your roof
Helps in reducing your energy bills
Improves the appearance of your roof to make your property shine
Protecting your family from harmful algae and bacteria that can seep into the home
Pool Area Pressure Washing
During the pool season, you and your family will enjoy spending time around and in the pool. While you may be taking all the necessary steps to keep the pool itself clean, what are you doing for the pool deck and area? If you're not cleaning up around your pool, you could end up with some issues.
Algae and other growths are common around pools, and not only are they unsightly, but they can be very dangerous since they're so slippery. You don't want any incidents regarding your pool, so we recommend you take advantage of our pool cleaning service sooner rather than later.
For our pool cleaning package, we pressure wash your entire pool area, removing even the most stubborn grime and stains that are plaguing your property. We get deep into the surface, eradicating all traces of bacteria that causes the nastiness to sprout up around your pool. We make sure the pool area is left spotless and clean, which is what you want before it's time for you and the kids to enjoy the pool this summer.