Get Reliable Pressure Washing In Plant City, FL
Our technicians and staff at Wrightlook Pressure Washing Company want you to enjoy an outstanding experience when you trust our experts with your roof cleaning and other exterior cleaning needs in Plant City. That's why we focus on providing superior customer service no matter the size of the job you entrust to us.
When it's all done, we don't want you telling your friends and family that you had a pretty good experience with us. We want you raving about the services that we provided you with and the friendliness and professionalism of our pressure washing technicians. Therefore, we always take pride in providing excellent customer service and do everything possible to excel at our craft.
Our family-owned business offers a 100 percent guaranteed service. Call today for a home or commercial Plant City pressure washing appointment and get a free project quote!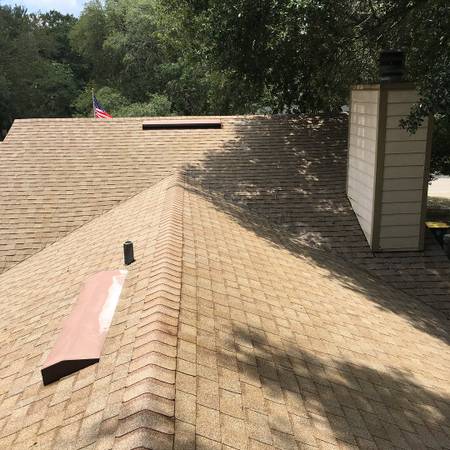 Pressure Washing Offers You Many Benefits
Our pressure washing skill speaks for itself and serves more than one beneficial purpose for your Plant City home. In addition to the fantastic curb appeal our service provides, you'll enjoy many benefits such as the few listed below.
Ease of Cleaning and Reduced Repairs – Normal cleaning requires you to scrub the surface for long to remove debris. It can be a daunting and tiring task, especially if you have to clean large surface areas, such as driveways. However, professionals will complete the task faster and more effectively.
Maintains the Value of Your Home – When done right, pressure washing is a valuable part of home maintenance that helps you avoid bigger problems in the years to come.
Roof Cleaning You Can Depend On
Rest assured, our Plant City roof cleaning service provides the best clean along with the best care! Along with the usual accumulation of dirt and leaves, things like bacteria, fungus, and moss can also grow on your roof. Not only can this grime cause damage to your roof, but it can also present health risks to you and your family, especially those suffering from allergies. Many of our customers report their allergy problems clear up after a roof cleaning.
Save yourself the time and hassle of doing the roof cleaning yourself by entrusting the task to our expert technicians!
Improve Curb Appeal With Sidewalk Cleaning In Plant City
Whether you have a sidewalk for your business property or you have a sidewalk in from of your home, keeping it clean will improve the appearance of your home. A property that maintains every structure on the land is more likely to retain a higher property value.
Incredibly Effective Deck Cleaning in Plant City
When it comes to Plant City deck cleaning, Wrightlook Pressure Washing Company is the top choice. We offer professional pressure washing services that will make your deck look like new. We understand the importance of keeping your deck in excellent condition, and we are dedicated to helping you get the most out of your outdoor space. With our high-quality pressure washing, you can trust that your deck will be clean and pristine.
We take special care to ensure that all debris is removed from your deck, and that no damage is done in the process. We also make sure to take all of the necessary safety precautions to ensure that your deck is safe and secure. Our team of professionals has experience in pressure washing, and we guarantee you'll be satisfied with the results.
If you're looking for reliable and effective deck cleaning in Plant City, contact Wrightlook Pressure Washing Company today. We will provide you with a free estimate and answer any questions you may have. With our help, you can keep your deck looking its best for years to come. Call us today at 813-507-1606 to get started.
Exterior Residential Cleaning Professionals Serving Homeowners In Plant City
When people think of house washing, they might think of how great it is for their homes' curb appeal. Don't get us wrong; curb appeal is a huge plus of Plant City pressure washing homes. However, it's not the only major benefit. House washing is also great for
Preventing repair needs
Priming for painting or staining
Increasing the property value
Saving money on repairs/replacements
Safeguarding against allergens
Your home's maintenance should be kept up year-round. Exterior cleaning isn't something that should be considered an optional task; it's an ongoing need for your home to stay in its best condition. The sooner you schedule a house washing service, the sooner your home will thank you!
Safe & Reliable Driveway Washing in Plant City
Driveway washing is a specialized service that requires the right equipment, chemicals, and expertise. At Wrightlook Pressure Washing Company, we use state-of-the-art pressure washing equipment and eco-friendly cleaning solutions to ensure that your driveway is thoroughly cleaned and protected. Our experienced technicians have the training and experience needed to tackle even the toughest driveway cleaning challenges.
Whether you have a concrete driveway or a paver driveway, our team can handle it all. Our process involves a thorough pre-treatment of the surface to break down any dirt, grime, and oil stains. Next, we use high-pressure water to blast away any remaining debris, leaving your driveway looking like new.
Experience the Benefits of Soft Washing in Plant City with Wrightlook Pressure Washing Company
At Wrightlook Pressure Washing Company, we understand the importance of soft washing in Plant City. Soft washing is a low-pressure washing technique that uses cleaning detergents, rather than high-pressure water, to clean and sanitize surfaces. This method is highly effective at removing dirt and debris, as well as killing bacteria and other harmful organisms. Soft washing is also gentler on surfaces than pressure washers and can help extend the life of your property's exterior.
Soft washing is perfect for cleaning and restoring surfaces such as siding, stucco, roofs, decks, and more. Soft washing can also reduce the risk of damage to your property, making it a great choice for home and business owners alike. To get started on your soft washing project, contact Wrightlook Pressure Washing Company today. Our team will be happy to answer any questions you may have and provide a free estimate. Let us show you the power of soft washing!
Rejuvenate Your Plant City Home's Fence with Professional Washing Services
At Wrightlook Pressure Washing Company, we take pride in our work and strive to exceed our customers' expectations. We offer competitive rates and flexible scheduling options to fit your needs. If you're looking for a reliable and trustworthy fence washing service in Plant City, look no further than Wrightlook Pressure Washing Company.
Call us today to get started! We can provide you with a free estimate and answer any questions you may have. Let us help you keep your fence looking its best. Contact Wrightlook Pressure Washing Company for all your fence washing needs in Plant City!