Professional Driveway Power Washing
The best solution for keeping a driveway well-maintained is the professional driveway cleaning service offered by Wrightlook Pressure Washing Company. Whether it's pavers, natural stone, bricks, or concrete, we know how to get masonry surfaces beautiful again!
After almost 15 years in this business offering excellent customer service on every project, we take pride in helping restore the appearance and functionality of your home's driveway. If you've been neglecting your driveway, call our pressure washing experts today for a free consultation and estimate and our guarantee of excellent customer service, start to finish.
Restores The Beauty of Your Driveway
Affordable Estimates
Superior Workmanship
Dedicated to Your Complete Satisfaction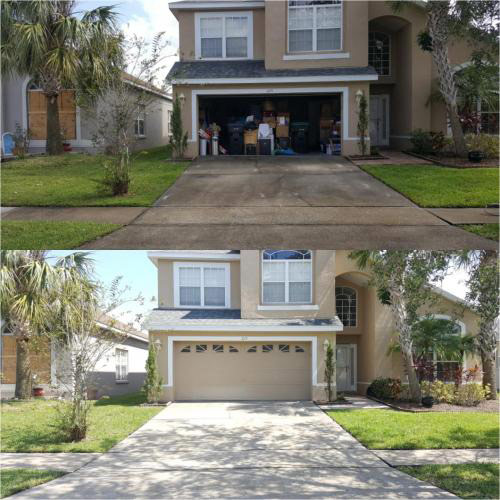 Why Driveway Cleaning Is Important
The driveway of your property is one of the most used features but probably also the most taken for granted. Although most homeowners throughout the Lakeland to Tampa area work hard taking care of their properties, they often neglect the driveway, allowing years of dirt and grime to settle into the concrete.
There are three key benefits our professional driveway cleaning and concrete cleaning services offers you; more surface traction, enhanced curb appeal, and preserving its value.
The most important is ensuring a safe driveway surface, free from obstacles and the build-up of slick oily areas that can cause slip and fall injuries.
Another important benefit to using our excellent driveway cleaning service is improving the curb appeal of your property.
The third main benefit associated with our superior driveway cleaning service is helping to maintain the financial investment you've made in your property. The appearance of your driveway directly affects the market value of your home.
Why Choose Us For Driveway Cleaning
Having your driveway cleaned by our experienced team of technicians every couple of years helps to extend its lifespan. Over time, the build-up of salt, mold, mildew, and algae on your concrete, pavers, bricks, or natural stone can cause it to weaken and deteriorate. Our professional pressure washing service uses the latest state of the art equipment to remove those pollutants, helping to protect your driveway from further damage.