Your Local Brandon, FL Pressure Washing Experts
We all enjoy the warm weather, the beauty, and lifestyle of living in Brandon, but the heat, humid air, salt, wind, and other environmental conditions can be very hard on a home's exterior. Unfortunately, harmful lichen, mildew, and algae grow all over our fences and rooftops here, staining the siding and eating away at the limestone roof shingles, and causing permanent damage. Our pressure washing, house washing, and roof cleaning services solve these common issues that Brandon home and business owners face.
For quality and affordable roof cleaning or house washing contact our local Brandon pressure washing experts at Wrightlook Pressure Washing Company for services. Contact us to schedule an appointment today!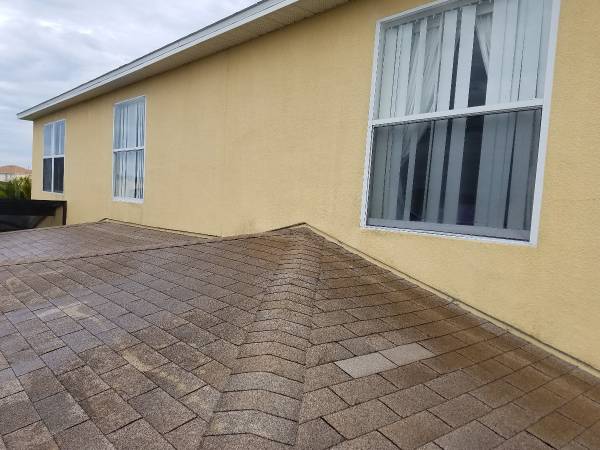 Pressure Washing Offers You Many Benefits
Grime, mold, mildew, moss, lichen, and algae all hasten the decay of our fences and rooftops in Brandon, FL. We can get these surfaces clean and healthy again with our pressure washing services. When you hire our dependable pressure washing expert, put your trust in our skilled professionals to do excellent work. We can offer you these benefits and much more, so don't hesitate to get the project done today!
Removes Mold and Mildew – Pressure washing is an ideal way to remove mold and mildew. These, among other contaminants, are harmful to the health and well-being of your home's occupants. If they're allowed to run rampant, mold can continue to grow within walls, eventually entering your home's interior and spreading even further.
Soft wash pressure washing is one of the most effective things you can do to prevent these issues and improve the appearance of your home.
Roof Cleaning You Can Depend On
We have the skills, equipment, and know-how that necessary when using a pressure washer. We can make your roof shingles, flat roof, or metal roof look like new again. We're pleased to offer our services to property owners and managers throughout Central Florida and the local areas nearby.
If it's time to get rid of the green or black look of your roof or other areas, call to ask about our expert roof cleaning services. Our specialists can renew and enhance the look of all types of materials, including wooden, vinyl, metal, brick, masonry, composite, concrete, aluminum, and other surfaces.
Keep Your Brandon Deck Looking Great All Year with Wrightlook Pressure Washing Company's Professional Deck Cleaning Services
Having a clean deck is essential for enjoying Brandon summers. Wrightlook Pressure Washing Company knows that your deck is a major investment, and with our professional deck cleaning services, we can help you keep it looking its best for years to come. Pressure washing is the most efficient and effective way to restore the beauty and longevity of your deck. Our team of experienced technicians use the latest equipment and techniques to safely and quickly remove dirt, grime, and other build-up from your deck. With regular maintenance, you can protect your deck from damage and keep it looking as good as new. Contact Wrightlook Pressure Washing Company today for your deck cleaning needs!
Brandon Soft Washing Specialists
As a trusted provider of pressure washing for Brandon homes, we're counted on by local homeowners to deliver service that is safe and promotes the health and integrity of their homes. That means modifying our approach to suit every job uniquely. A roof can't be blasted away at like a slab of concrete; instead, we need to use a more gentle approach. That's why we use soft washing for our roof cleaning jobs.
The low-pressure, fanned-put spray we use for soft washing allows us to evenly coat delicate areas with a healthy dose of antimicrobial cleaning detergent. Don't worry- our detergents are biodegradable and safe for residential use. While they may be easy on the environment, they're tough on stains and invasive organisms. The soft washing treatment kills algae, a common source of damage and premature aging in roofs, as well as mold, lichen, and moss. Not only does this keep your roof free of large dark algae stains and other messes, but your roof will be better protected against the elements, potentially saving you tons of money on repairs.
Exterior Home Cleaning Made Easy For Brandon
The idea of Brandon pressure washing residents is often an enormous, daunting task, which is why Wrightlook Pressure Washing Company is here to take that pressure off your shoulders.
Our experts know what chemicals and soaps are needed for what growths and what psi and techniques are appropriate for each house siding material, whether it be vinyl, painted wood, or metal. With each visit from Wrightlook Pressure Washing Company, you can count on:
Safety. Not only for you and ourselves but for the increased safety in your future when dangerous and slippery molds and mildews are eradicated through our services.
Effectiveness. Each house needs a different touch, and we at Wrightlook Pressure Washing Company mix a new cleaning solution with each dirty problem.
Hassle-free Experience. Our scheduled professionals get in and out fast, and your home and structures looking their best in no time flat.
No matter what, you can rest easy knowing that your house washing is in our hands, and your satisfaction is guaranteed.
Unchecked streaks and stains are usually organic matter like mold and algae that feed on the materials we make our home siding from. And we aren't just talking about wood, but artificial materials like vinyl. As these molds and algae consume the siding, the material loses structure and eventually grows brittle and susceptible to breaking and chipping.
As many homeowners know, damage like that would require a total replacement, which is costly. To keep your home in its best condition for as long as possible, it is essential to schedule regular pressure washing services. House washing, in addition to our other pressure washing services, are methods recommended by most manufacturers and contractors to keep their products in satisfactory condition.
When it comes to homeownership, it is vital to stay on the ball and have a plan of action for maintaining your home. Luckily, house washing for Brandon residents is taken care of when you schedule regular cleanings with Wrightlook Pressure Washing Company.
Walkway Washing Specialists in Brandon
Walkway washing is another great way to keep your residential properties safe. Whether you're looking at a paved path, asphalt, or even concrete, our experts can help ensure you're getting the best service.
Because we're local to the Brandon area, we know what kind of contaminants will find their way onto your outdoor surfaces. This gives us the unique ability to recommend specific cleaners that can help break down these contaminants and leave your walkways clean and clear.
Unlock the Beauty of Your Home's Fence with Professional Washing
Don't wait any longer to give your fence the attention it deserves. Contact Wrightlook Pressure Washing Company today at 813-507-1606 to get started. Our team of experts is here to help you get your fence looking its best in no time.
At Wrightlook Pressure Washing Company, we understand the importance of maintaining the appearance and condition of your fences. That is why we are proud to offer our professional fence washing services in Brandon. With our experience and highly-trained staff, we are the number one choice for all of your fence washing needs.
Get the Best Results with Pro Driveway Washing in Brandon
At Wrightlook Pressure Washing Company, we understand that your time is valuable, so we will always strive to provide you with the best service possible. We will take the time to make sure that your driveway is properly cleaned, and we will always make sure that it looks its best. Our team is highly experienced and knowledgeable, so you can rest assured that your driveway washing needs will be taken care of quickly and efficiently.
So if you are looking for a reliable and professional driveway washing service in Brandon, then look no further than Wrightlook Pressure Washing Company. We are here to help you get your driveway looking its best in no time. Don't wait any longer; call today to schedule your driveway washing appointment and get your driveway back to looking its best.