Exterior Cleaning Services You Can Depend On
Ready to clean your siding and boost your home's curb appeal with help from a licensed house washing expert? Our professional and courteous pros can give your home's siding and other exterior surfaces a pristine clean that lasts for months on end.
Our pressure washing company is based in Lakeland and provides services to communities near Tampa and other areas. All of our exterior cleaning projects are taken care of by experienced technicians who are dedicated to your complete satisfaction. If you are ready for house washing service at it's finest, schedule a free estimate today.
Front Porch & Entryway Cleaning
Porch Ceilings & Railings
Windows
Roof Eaves & Siding
We Handle Large and Small Projects!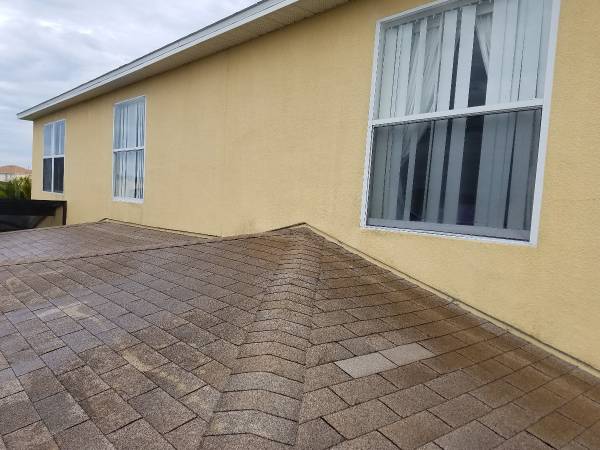 Why House Washing Is Important
Our house washing techniques are approved by siding and roofing manufacturers to safely clean and sanitize your house. Soft wash cleaning is the process that works best to remove algae and moss from the exterior surfaces of your home because it gets to the roots and kills the growth.
The techniques and cleaning formula we use for cleaning your siding and trim gets rid of algae and mildew stains and keeps it from coming back for many months at a time. This method is the same we use for safe roof cleaning and many of our other jobs.
Why Choose Our Home Washing Service
Wrightlook Pressure Washing Company is your local Lakeland pressure washing expert. No rust or algae stain can resist our efforts because we've gone through training and have the equipment to offer the best house washing services available.
Our local professionals are dedicated. We provide our customers with detailed work that focuses on safety. We provide services for all types of exterior surfaces to include wooden siding, cement, brick, vinyl, aluminum, composite siding, and more.
Our house washing process is gentle to your home's siding. Be it brick, stucco, stone, vinyl, composite, or painted wood surfaces, we focus on stain removal and doing a thorough job of cleaning the exterior of your home safely. You'll never need to worry about us damaging any part of your home's exterior just because we're in a hurry!